Brent crude futures traded 20 cents lower at $69.06 a barrel at 1129 GMT, after breaking above $70 on Thursday for the first time since December 2014. March Brent fell a penny to $69.25.
The best grades of USA crude are now priced at almost $63 a barrel, high enough to convince shale oil producers to expand drilling and production.
The increased crude prices are already having an impact at gas stations across the U.S. According to travel analyst group AAA, the $2.49 per gallon average U.S. gas price on New Year's Day of 2018 was the most expensive price for that date since 2014. West Texas Intermediate the day before rose to its strongest since late 2014 at $64.77. WTI was down 0.61 percent to $63.41 per barrel.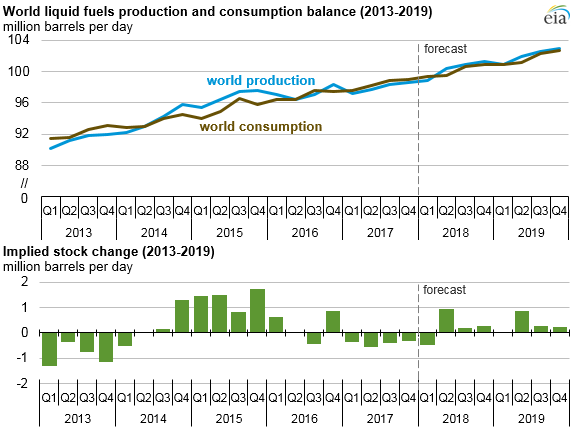 Members of the Organization of the Petroleum Exporting Countries fear current price gains could prompt USA shale oil companies to flood the market. The EIA says it will account for two thirds, or 800,000 b/d of the 1.2 mb/d of oil production growth expected between December 2017 to December 2019.
Analysts and traders have warned about the risk of a price correction since the start of 2018, but they say overall market conditions remain strong, mainly due to output cuts led by Organization of the Petroleum Exporting Countries and Russian Federation.
Much of the production growth will be concentrated in the Permian Basin, the largest USA oilfield stretching across Texas and New Mexico, said John Staub, the EIA director of the office of petroleum, natural gas and biofuels analysis. As U.S. shale producers blaze ahead at turbo-speed, the EIA's number crunchers have taken note.
Wall Street higher as consumer and bank stocks gain
US stock indexes on Friday closed out what has been a stellar start to a calendar year for equity trading. Advancing issues outnumbered decliners on the NYSE by 2,103 to 762.
Ole Hansen, head of commodity strategy at Saxo Bank, said this week that "bullish news tends to get more attention than potentially bearish signals". "However, there are definitely issues supporting the market". EIA's latest Short-Term Energy Outlook (STEO) from earlier this week estimated that USA crude oil production averaged 9.3 million bpd in the whole of 2017, and 9.9 million bpd in December alone.
US crude production is forecast to average 10.3 million bpd in 2018, which would be the highest annual average USA production, surpassing a previous record of 9.6 million bpd in 1970.
While Brent and WTI are below $70 per barrel, the average price for Asian crude grades has risen to $70.62, Thomson Reuters Eikon data showed.
Maharashtra | Boat carrying school children capsizes in Dahanu; 32 rescued, 8 missing
In addition, the Coast guard vessels and Dornier aircraft has been deployed for the rescue operations. Dahanu is a coastal town known for Chickoo farming and a tourist destination in Palghar District.
Later-dated futures trading lower than the spot price is known as backwardation, and is expected to inhibit production because it implies a lower price for future barrels sold.
Celebrity Big Brother 2018: Ginuwine reveals his real name
Willoughby then tries to kiss Ginuwine and is immediately curved to the tenth power. "People have done very well out of that". Do they want to see a house full of people getting on? Celebrity Big Brother continues nightly on Channel 5.